Tankless Water Heaters
Tankless water heaters supply unlimited hot water at a steady temperature, whenever you need it and for as long as you need it. These revolutionary heating systems use natural gas or propane gas to heat water only when necessary, greatly reducing excess energy consumption. When water flow is detected, the tankless heater begins to warm the water instantaneously as the liquid passes through an ultra-efficient heat exchanger. When the demand for water ceases, the tankless unit shuts down – an amazing advancement over traditional tank-style water heaters.
Never Run Out of Hot Water Again!
Tankless water heating is more than an energy-saving advancement – it also improves your quality of life. Nothing ruins your day quite like an unexpected cold shower! Delight in a continuous stream of hot water 24 hours a day, seven days a week! Whether you're washing dishes, doing laundry or enjoying a relaxing bath, the convenience of a tankless water heater will enrich your life for years to come.
Save Space with Compact Tankless Designs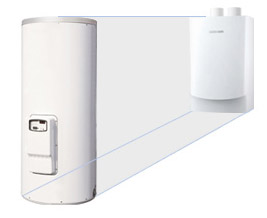 Traditional tank-style water heaters can take up to 16 square feet of valuable floor space in a laundry or utility room. Tankless heaters, on the other hand, have the same dimensions as a carry-on suitcase, and can be installed virtually anywhere – even on outside walls.
Arctic Heating & Cooling offers a wide variety of tankless water heating solutions, including Rinnai LS Series Tankless Water Heaters and Navien Condensing Tankless Water Heaters (click links to visit manufacturer's websites). For more information on this exciting technology, please contact a water heating specialist at Arctic Heating & Cooling. You can also schedule a free estimate for tankless water system right now.