Radiant Floor Heating Systems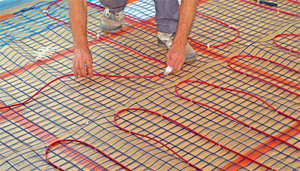 Radiant floor heating is a unique and cost effective alternative to traditional home heating systems. Whether you're building or remodeling, infloor heating systems are designed to provide comfortable, even heat throughout your entire home. While traditional forced-air heating systems rely on air circulation to distribute warmth, radiant floor heating feels more like the sun, directly warming people from the ground up. With forced-air systems, the vast majority of the hot air is lost as it rises and accumulates near the ceiling. Radiant floor heating systems are designed to keep the warmth near the floor where you and your family can benefit from it the most.
Advantages of Installing Radiant Floor Heating
There are many benefits associated with radiant infloor heating systems. These include:
Reduced heating bills: The Uponor (click on the link to visit the manufacturer's website) line of radiant floor heating systems installed by Arctic Heating & Cooling can reduce your heating bills by 20-40%.
Increased resale value: Radiant floor heating systems are consider a luxury to many home buyers and can help boost the resale value of your home tremendously.
A versatile design: Radiant infloor heating works with any kind of floor covering including carpet, hardwood, tile, and linoleum.
Reduced allergens and dust: Radiant floor heating systems are perfect for people with asthma or respiratory problems as they do not disperse allergens and other pollutants in the air.
Advanced climate control: Uponor infloor heating systems use multiple thermostats, allowing you to control your comfort and your costs by turning down the temperature in low traffic rooms.
Maintenance free: Radiant infloor heating eliminates the need for annual furnace and duct cleaning.
Multi-functional: Hate shoveling your driveway after a heavy Canadian snowfall? Then why not have Arctic Heating & Cooling install radiant heat technology in your driveway and enjoy effortless snow removal!
Radiant infloor heating systems are practical, versatile, clean and comfortable. Contact Arctic Heating & Cooling today for more information on this innovative heating system.