Furnaces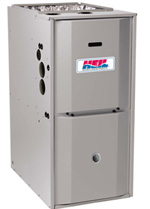 Arctic Heating & Cooling proudly offers a wide variety of heating systems, including traditional forced-air furnaces, boilers, combi-boilers space heaters, and direct vent wall furnaces for residential, commercial and industrial properties. Our selection is one of the best in the area, and includes industry leading manufacturers like Reznor, Keeprite, Trane, Navien, Goodman and Rinnai.
Has the rising cost of energy caused you to take a closer look at your utility bills? If you're looking for a way to cut costs without compromising on comfort, now's the time to consider installing a new, energy efficient furnace. The latest generation of furnace systems are extremely sophisticated, providing homeowners with significant cost and energy savings. From small spaces to large places, Arctic Heating & Cooling has the right heating system for your needs.
Find the Furnace That's Right For You
Arctic Heating & Cooling offers heating solutions for spaces of all shapes and sizes. The following are just a few of our innovative options:
Forced-air Furnaces

Arctic Heating & Cooling carries the complete range of  Keeprite forced-air furnaces. These heating units are Energy Star rated and equipped with lengthy manufacturer warranties. Reliable, comfortable, clean, efficient, quiet – these are all words you'll use to describe your new forced-air furnace installed by Arctic Heating & Cooling.

Outdoor H&C / Rooftop Units

Commercial buildings require specific heating and cooling specifications in order to provide the optimal level of climate control. Arctic Heating & Cooling offers a full range of rooftop and outdoor mounted heating units, all of which are designed to easily integrate with commercial-grade air conditioning units.

Direct Vent Wall Furnaces

Electric baseboard heaters are expensive and dangerous. Luckily, the Empire line of direct vent wall furnaces available at Arctic Heating & Cooling are designed to provide total warmth at a fraction of the price of electric heat. These innovative mini-furnaces are clean and cost-effective, making them a great choice for small spaces. Direct vent systems are specifically designed for areas where flues or chimneys are not available and require just one hole for easy ventilation. Arctic Heating & Cooling proudly carries Empire wall furnaces – check out their website for more detailed product information.

Boilers

Arctic Heating & Cooling sells, installs, and services all gas boilers, including top quality models from Weil-McLain. The boilers that we offer have a lifespan of nearly 35 years, making them a great investment and economical heating solution. Made with European-designed, high-grade stainless steel burners, Weil-McLain and Navien boilers provide exceptional stability with natural or propane gas.

Unit Heaters

Keeping your garage or warehouse workspace warm has never been easier, or more affordable, thanks to the Reznor and Modine line of unit heaters. Arctic Heating & Cooling highly recommends these quiet, compact space heaters for industrial spaces, but they are also approved for residential installations. Designed with versatile mounting options, unit heaters provide constant comfort.

Radiant Tube Heaters

Radiant tube heaters are efficient, cost-effective, and satisfy the heating requirements for a wide variety of indoor and outdoor applications. Arctic Heating & Cooling recommends this type of heating for commercial, industrial, agricultural, and residential heating applications.
Keeprite Specifications
The technicians at Arctic Heating & Cooling encourage all of their customers to educate themselves on the benefits of different furnace model types. For more information on Keeprite Furnace product details,  click here.
From natural gas to propane, Arctic Heating & Cooling has a heating solution for you. Please contact us for more information on our line of furnaces or to schedule a free estimate. Thinking about replacing your furnace? You may want to consider replacing your air conditioner at the same time.