Fireplaces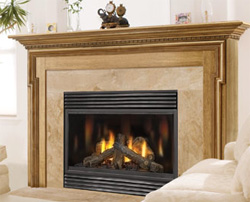 Turn your home in a cozy retreat with a beautiful fireplace installation from Arctic Heating & Cooling. Arctic Heating & Cooling is proud to be a certified dealer of Continental Fireplaces (click on the link to visit the manufacturers website), providing customers with a wide range of fireplace installation options. There's a design to suit your home and your budget, so why wait? Stop by our Wallaceburg showroom today for more information and to order a fantastic fireplace of your very own.
Types of Fireplace Installations
Direct Vent Gas Fireplaces

A direct vent gas fireplace is a versatile installation option for any Chatham-Kent / Sarnia-Lambton home. This type of installation does not require a traditional chimney, and can vent horizontally or vertically, depending on the location. Direct venting fireplaces eliminate drafts and heat loss associated with other fireplaces. This is because the direct vent draws its combustion air from outside while venting to the same outside atmosphere. This means that your fireplace will not be consuming warm air from inside your home, nor will it be competing with other appliances and furnaces for combustion air.

Natural Vent Gas Fireplaces

Natural vent gas fireplaces take in combustion air from within the home and vents products of combustion outside the home. Also known as a "B-Vent", this type of fireplace installation must vent above the roof line. Natural vent gas fireplaces are an economical choice for Chatham-Kent / Sarnia-Lambton residents who choose to vent straight up through an existing chimney, as the installation requires the use of a less expensive flexible-style liner.

Outdoor Fireplace Installations

Accent your backyard area or commercial patio with a beautiful outdoor fireplace installation and immerse yourself in the enjoyment of outdoor living. Outdoor fireplaces are great for extending the season of any outdoor space. Outdoor fireplaces give off radiant heat and warmth, as well as a romantic light and an intimate ambiance.
If you're interested in installing a fireplace in your home or business within Chatham-Kent / Sarnia-Lambton, give Arctic Heating & Cooling a call at (519) 627-6726. You can also send us an email with any questions you might have about our fireplace installations.